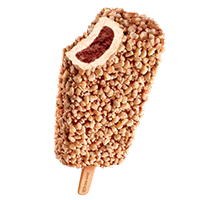 Chocolate
Eclair
Chocolate and cake on a stick, yum! We wouldn't blame you if you d-éclair this cake-coated frozen Chocolate Éclair dessert bar as your favorite.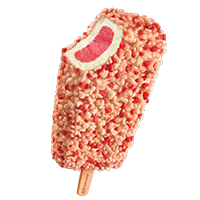 STRAWBERRY SHORTCAKE BAR
America's favorite strawberry shortcake bar! Our cake-coated frozen Strawberry Shortcake dessert bar is the perfect treat for any season.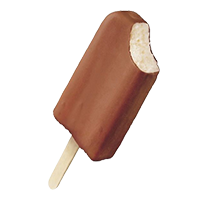 PREMIUM ICE CREAM BAR
It all started with the Original Ice Cream On A Stick from the ice cream truck. Vanilla flavored ice cream and a chocolate flavored coating.
About our ice cream truck...
Ol' Tyme Good Humor Ice Cream came to life in July 2012 as an idea to re-live our youth! Sue grew up in Chicago and remembers running into the house every Thursday night after dinner asking her parents for money as soon as she heard those Good Humor bells ringing!
Our Good Humor Ice Cream Truck has been an excellent addition to many events!
Car Shows/Cruises
Parades
Corporate Events
Golf Outtings
Parties and More!
REMEMBERING THE GOOD HUMOR TRUCK
It's summertime, when ice cream trucks ply the residential streets of America, playing the same silly songs over and over and over again, or ringing their bells. There was a time when the ringing bells of Good Humor trucks could be heard across America, but now their bells are heard and the trucks are seen primarily at car shows and in museums. A vintage piece of Americana from yesteryear.